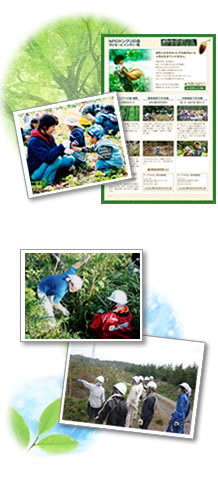 Autoglass Co., Ltd. supports activities of "Donguri no kai"-an incorporated, non-profit organization.
What is "Donguri no Kai"?
"Let's build sustainable and greener earth for children in the future."We established our association in 1981 with this belief and started out activities with the slogan: "one child, one acorn". We pick acorn seeds from the mountains, and plant them in nurseries. Till the acorns grow as it sprouts, the seeds are taken care of and will be re-planted in different Hida mountains. With everyone's upright efforts, several forests were made throughout the country with broad-leaved trees everywhere.
What is "Cool Green Movement"?
"Donguri no Kai" proposes tree-planting in the city with the slogan: Change "Heat-island" to "Cool-island". The project aims to grow acorn in the city and re-plant acorn seedlings back to the forest. Planting acorn growing in the city will help in absorbing CO2 (Carbon Dioxide) and improves greenery in the mountains by enriching the growth of planted acorns by CO2 intake.
We support "Cool Green movement " as proposed by "Donguri no Kai"
Autoglass Co., Ltd. (AGC Asahi Glass Group) along with Coolverre dealers nationwide, support "Cool green movement" by donating part of sales of Coolverre: a thermal insulation - IR and UV cut glass for automotive windshield that has excellent thermal insulation and energy-saving effect.

Contact Us
Autoglass Co., Ltd.

UNIZO Shibadaimon 2Chome Bldg.4F. 2-2-1, Shiba-Daimon, Minato-Ku, Tokyo 105-0012, Japan
Phone
Fax
Email
+81-3-5777-1311
+81-3-5777-1312